A Continued Legacy Through Endowment Giving
The YMCA of Barry County's three areas of funding include program fees, various grants, and our own endowment program. All three are critical to the success of our organization. We provide safe programs that develop self-confidence and foster a greater interest in learning. The need for families to access these programs has never been greater and will only increase as we all continue to adapt to post covid-19 conditions.
Endowment Focus Areas
PROVIDING ASSISTANCE FOR ALL
To make programming accessible to more families, financial aid is crucial given current and prospective economic circumstances. Today, over 35% of campers receive financial assistance, and all programs are subsidized at some level. Hundreds of families registering children for youth programs rely on this assistance to ensure their children stay active. The need for financial aid is not due to the cost of programming. A national Y survey verifies that our camp and program fees are already among the lowest in the nation. The need is driven by the financial challenges facing so many families in Barry County.
PRESERVING CAMP ALGONQUIN
We are blessed with a superb facility in Camp Algonquin. We provide important opportunities for families and children to grow and learn in an outdoor environment. It is imperative that this facility be maintained and enhanced for future generations. A major waterfront renovation was completed in 2020, and we still have funding needs. While we have been good stewards of the property, additional buildings mean additional expenses. With sustained endowment funding, we will not jeopardize our ability to keep up with the demands of our maturing and highly utilized camp.
SECURING OPERATIONAL INDEPENDENCE
Our outreach services to Barry County residents and beyond are growing. Our Y Mentors program replaced Big Brothers Big Sisters of Barry County in 2017. Our B. Bus Mobile Library has delivered books and educational activities to all corners of the county. Throughout the covid-19 pandemic, and beyond, we have continued to deliver meals to hundreds of children who count on us. Our administrative expenses have been very tightly monitored, and it is tremendous to state that 100% of administrative expenses are covered by our endowment. New donors have the added incentive of knowing that their full contribution is supporting programming and services for families.
Waterfront Renovation – Completed!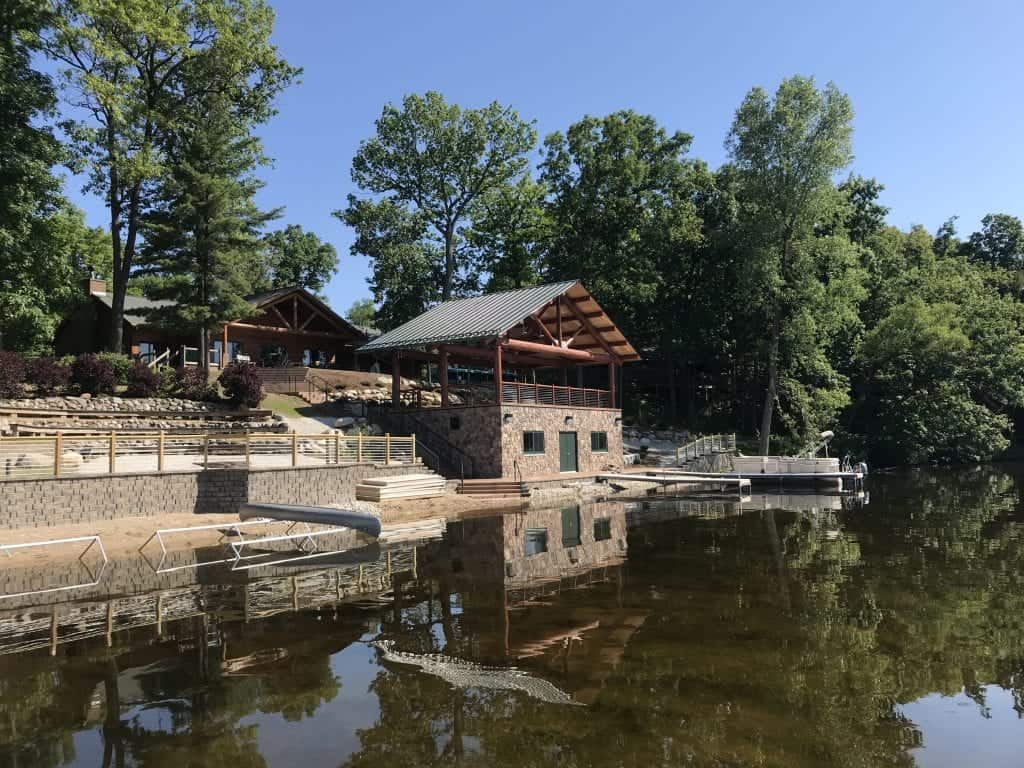 This project was an important step to improve the safety of the property and expand the programming opportunities for campers.
A new, larger boathouse has safer access and a covered pavilion matching the design of the main lodge.
A new retaining wall along the lake replaced the outdated wall. This wall improves visibility, increases access to the waterfront, and creates an inviting experience for families and campers.
A new bathroom facility, located at the top of the waterfront steps, allows campers to be appropriately supervised during waterfront activities.
A new foot trail and boardwalk deck follows the eastern shoreline, and provides new access to areas of camp that have previously been underutilized.
Future development includes a nature playground, expanded signage, a new target sports range, and a new challenge course.
Partner With Us
The YMCA has a loan that helped us complete the project on time. Additional donations will help us pay off that loan and allow us to plan for more camp improvements. For more information, contact Jon Sporer, CEO, 269-945-4574
Donate Now
Specific Funds & Goals
Dave Storms Community Outreach Fund
Dave Storms, or "Stormy," led our YMCA and Camp Algonquin from 1981 through 2006. He remains a strong supporter of the Y and our community. This fund, established in 2020, will support all community outreach efforts by the YMCA in Barry County. Our goal is to reach $500,000.
Bob King Legacy Fund
This fund provides financial assistance so that every child has the opportunity to participate in a YMCA program regardless of their ability to pay. Our goal is to reach $1,000,000.
Camp Endowment
This fund is designed to have annual money available to maintain and enhance the camp facilities. Our goal is to reach $2,500,000.
General Endowment
Designed to subsidize all administrative expenses which allows the Y to keep its program fees affordable for all. Our goal is to reach $5,000,000.